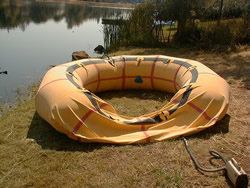 MULTI-CHAMBER TUBE CONSTRUCTION (on most models) ASSURES YOUR TRAMPOLINE IS ALWAYS FLOATING
Our 15', 20' & 25' flotation tubes are made of 1000 denier, 30 oz PVC material. All seams are secured with double reinforced, 3" overlap glue bond. This glue bond seaming process is the same method used by many of the best brands of USA-made inflatable boats.
The flotation tube is protected by our exclusive protective frame cradle. This feature protects the tube against abrasive wear and heat from the metal frame. The jump surface (shown partly assembled) and the multi colored spring pads are made of durable UV resistant materials and are the same size as most land mounted trampolines. (see specification page for size details)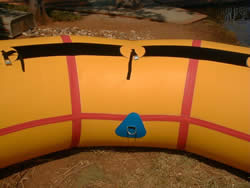 Most of our trampoline springs and framing hardware are made in the USA by a reputable trampoline manufacturer. All metal hardware parts and attachments are super galvanized for long life.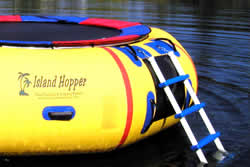 Our goal is to provide our customers with the highest quality components available.
QUALITY FEATURES ASSURE QUALITY PRODUCTS