Main Index
Shop Online
Supplier's Listing
Become A Member
Classified Ads
Business Services
Research Info
Picture Library
Homepage
Inflatable Boats For Sale
Inflatable Kayaks
Inflatable Boat Accessories
Custom Products
Davits, launching wheels, prop guards, seats & much more
Inflatable Boat Anchors
Inflatable Boat Repair Paint
Outboard Motor Covers
Inflatable Boating -
Exceptional Security
Security, stability, buoyancy, unsinkabililty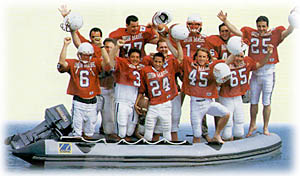 Compared to traditional boats, an inflatable boat offers some important advantages: it is safer, lighter, more practical and more economical.
Reassuring stability
The stability of an inflatable, thanks to its large buoyancy tubes and resulting low center of gravity, is such that under normal circumstances it is practically impossible to capsize. This quality, which is essential to safe confident navigating, is especially appreciated by divers and fisherman.
Exceptional load capacity
There are 12 football players in this inflatable, and it is capable of carrying more or maneuvering, without taking on water. This is because the buoyancy of an inflatable is far greater than that of a traditional boat giving it a higher loading capacity.
Security, buoyancy, unsinkabililty
The buoyancy tubes of an inflatable include several compartments sealed one from the other by conical bulkheads. Because of its large air reserve, the boat will stay stable and unsinkable, even with one of the independent air chambers deflated.
These photographs were taken under strictly controlled conditions, solely to demonstrate the difference between an inflatable boat and a traditional craft in extreme conditions. Any attempt to reproduce these situations could prove highly dangerous and should never be attempted.



Photos and information courtesy of Zodiac Canada - www.zodiac.ca